La prueba social es conocida por los estudiosos de la sociología desde hace tiempos; el marketing tradicional, a través del "Social Proof Marketing", retoma su concepto principal para aplicarlo a la comercialización de productos o servicios y como una estrategia para vender más.
En la nueva economía 2.0 nos encontramos frente a un nuevo concepto: la prueba social digital como uno de los secretos para vender más que toda página en internet debería incorporar a lo largo del proceso de compras.
Veamos rápidamente los 10 elementos de prueba social que un sitio web debe incluir para luego analizarlos uno a uno.
¿Qué es la Prueba Social?
La sociología nos aporta el concepto tradicional de prueba social: Determinamos lo que es correcto en base a lo que la mayoría cree que es correcto.
Prueba Social: ¿Cuál restaurante elegirías para comer?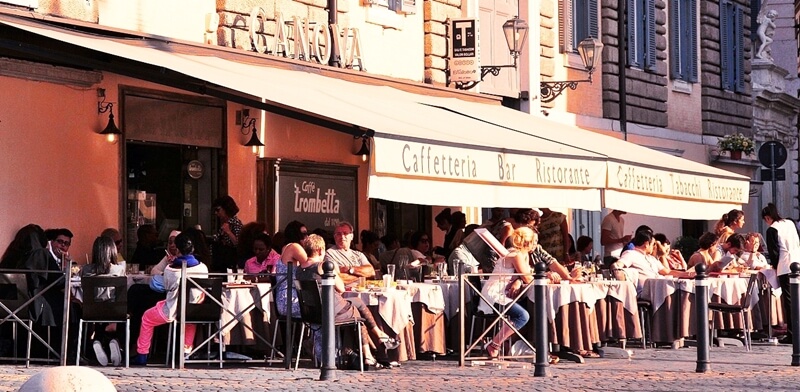 Imaginemos que nos encontramos en frente de dos restaurantes muy similares por fuera. Al mirar la carta en la entrada vemos que los dos tienen precios similares pero en uno de los dos hay fila para entrar y en el otro nadie entra ni sale…
¿Cuál de los dos restaurantes elegirías para comer?
Según los estudios realizados por Robert Cialdini y publicados en su reconocido libro Influence: The Psychology of Persuasion, una persona promedio tiende a elegir el restaurante donde hay fila para entrar.
Definición de Prueba Social
Wikipedia, llama a la prueba social, demostración social, y dice que se basa en un efecto psicológico por el cual tomamos decisiones (de compra en nuestro caso) basándonos en el supuesto que las personas a nuestro alrededor poseen más o mejor información que nosotros sobre una situación determinada.
Determinamos lo que es correcto en base a lo que la mayoría cree que es correcto. #SocialMarketing
Clic para tuitear
La situación determinada, en nuestro caso, sería la toma de decisión entre comprar o no comprar un producto/servicio en nuestro sitio web.
Qué lugar ocupa la prueba social en el proceso de compra online
Luego de atravesar todas las etapas del embudo de ventas, el usuario toma la decisión de compra, no sólo basado en el precio, sino que además tiene en cuenta:
Confianza que transmite tu marca.
Expertise o experiencia que sabes transmitir como profesional o empresa.
PRUEBA SOCIAL: comentarios, testimonios, presencia en redes sociales, premios, certificaciones, entidades que te respaldan y otros que veremos a continuación.
Seguridad que ofrece tu plataforma al momento del pago…»
ELEMENTOS DE PRUEBA SOCIAL
Veamos los elementos de prueba social digital que solemos encontrar en páginas webs que apuntan a la venta de un producto o servicio:
#1 Testimonios reales y positivos

Es muy común ver estas referencias en sitios web de empresas medianas y grandes pero también webs de marca personal o en blogs de nicho inclusive.
Un testimonio es la referencia positiva, que un usuario anterior de nuestro servicio/producto, deja en nuestra plataforma digital, destacando la satisfacción de haber utilizado nuestro servicio/producto.
Llevado a la práctica, no quiere decir que el usuario por voluntad propia tiene que dejar el testimonio, al contrario, no tiene nada de malo solicitarlo al finalizar un proyecto con un cliente satisfecho.
💡 Explico a fondo la importancia de los testimonios en mi Curso Online de Marca Personal.
¿Por qué son tan importantes los testimonios y reseñas en tu web?
Para leer los informes y ver mi resumen sobre las estadísticas que cuento en el video te dejo este link al podcast: Testimonios y Reseñas para Vender más por Internet.
Pero, ¿Cómo el cerebro de un usuario/prospecto interpreta la lectura de un testimonio?
Según el principio de prueba social nuestro cerebro interpreta lo siguiente: -Si muchos han usado este servicio/producto antes, y se encuentran satisfechos; entonces puedo confiar en esta marca y hacer lo mismo que los otros.- Y esto se debe a que los anteriores compradores poseen más información por haber usado el producto anteriormente.
Elementos que no deberían faltar al exhibir un testimonio en una web:
Nombre + Apellido del cliente satisfecho.
Empresa, emprendimiento, marca que representa el cliente.
URL: dirección web donde podemos constatar que el cliente/emprendimiento es real.
Foto: preferentemente un rostro, ya que transmite más confianza que una imagen pequeña de cuerpo entero.
Cuantos más elementos consigamos mostrar, más confianza y transparencia transmitirás a nuestros potenciales clientes.
#2 Redes sociales: cantidad de seguidores

Colocar la cantidad de seguidores en las redes sociales del emprendedor o los "Me Gusta", Twits, +1, etc. recibidos, cumple perfectamente con el principio de prueba social. Si muchos eligen tu servicio/producto este debe ser bueno y ellos también lo van a querer comprar.
Nuevamente aplicamos el criterio general de la prueba social: –Si muchos otros le dieron "Me Gusta" a una página es porque poseen más información que yo para decidir que es una buena página; entonces, yo haré lo mismo.-
¿Cuántos seguidores debo tener antes de poner el contador en mi blog / web?
Con este título me refiero a que si tenemos 50 seguidores en tu página de Facebook y lo hacemos muy evidente, es probable que por el principio de prueba social, el usuario NO le dé "Me Gusta" a tu fanpage.
-Si muchos otros NO le dieron "Me Gusta" es porque esta página de facebook no es buena o no aporta contenido útil; entonces, yo haré lo mismo.-
Según el principio de la prueba social digital, el ser humano y el usuario de internet, piensan de esa forma.
¿Pero veamos ahora cuál es el número mínimo de seguidores que debo tener en mis redes para mostrar el contador?
No hay ningún estudio científico al respecto, pero por lo general se dice que:
Facebook y Twitter: no menos de 1000 seguidores por lo menos para personas de habla hispana.
En Instagram: me gusta manejar la cifra mínima de 5000 seguidores.
Google+: en este caso más de 500 seguidores ya me parece un gran logro en mercados hispano hablantes
Youtube: también es una red difícil si no te dedicas a generar contenido en forma de videos. Por lo tanto si tienes más de 500 seguidores ya es un buen número para mostrar como prueba social.
Probablemente con el paso del tiempo vaya cambiando estos números.
Contador o herramientas para mostrar los seguidores en tu web o blog
Te muestro dos plugins para WordPress, uno gratuito para quien está empezando y el segundo de pago (USD 14) para quien quiere mejores resultados.
Social Count Plus (Plugin gratis de WordPress)

Easy Social Share Buttons for WordPress (Plugin de pago)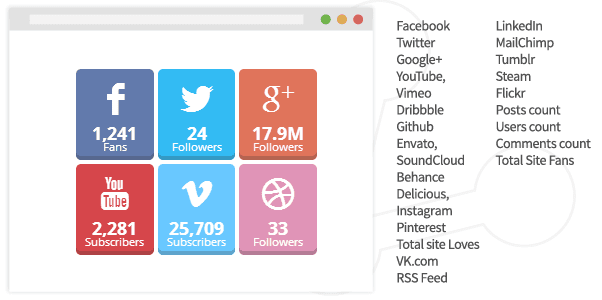 Lo uso hace tiempo en otro proyecto personal y me ha dado excelentes resultados.
El precio es muy accesible, sólo USD 14 dólares.
Permite conectar al día de hoy 25 servicios.
La gran ventaja: permite conectar tu cuenta de Mailchimp para poder mostrar la cantidad de suscriptores a tu boletín (Newsletter).
#3 Boletín o Newsletter: cantidad de suscriptores

Al igual que en el caso anterior sobre las redes sociales, dejar en claro la cantidad de suscriptores a tu boletín, es un buen elemento de prueba social digital también.
Pensando esto según el criterio anterior de redes sociales: -Si muchos se suscriben al boletín es porque éste debe aportar algún tipo de información útil y de calidad; entonces como muchos se suscriben, yo también me suscribiré-.
Y de esa forma tu lista sigue creciendo permitiéndote acompañar a los usuarios a través del embudo de ventas digital, hasta convertirlos en compradores o enamorados de tu marca.
¿Cuántos suscriptores debo tener antes de mostrarlos mi web?
Sé que es difícil escribir contenido bueno y útil, por ejemplo, semanalmente, porque lo hago también. Por lo tanto sé que hacer crecer el número de suscriptores a tu lista no es tarea sencilla.
Sin embargo un número inferior a los 600 suscriptores, personalmente, me da la sensación de escasez.
Contador o herramientas para mostrar tus seguidores en un sitio web o blog
A diferencia del punto #2 anterior de redes sociales (ver plugin gratuito), la única opción válida es usar el plugin de pago Easy Social Share Buttons ya que conecta con Mailchimp (servicio gratuito de envío de newsletter).
Easy Social Share Buttons for WordPress (Plugin de pago)
#4 Comentarios y cantidad de descargas
Los elementos de prueba social, comentarios y cantidad de descargas, se analizan juntos para seguir el ejemplo de una aplicación para teléfonos móviles pero también lo veremos para una página web o blog.
En el caso de un aplicativo para dispositivos móviles, la cantidad de descargas y los comentarios positivos que recibe en las tiendas de Google o de Apple, hacen que se active el principio de prueba social en nuestro cerebro.
Es decir: -si muchos bajaron este aplicativo móvil y ha recibido muchos comentarios positivos es porque las personas lo han usado (poseen más información que yo) y les ha gustado; entonces, yo bajaré el aplicativo más popular también.-
Lo anterior significa que quien se dedica a producir aplicativos móviles debe inducir a que el usuario deje una reseña o comentario de forma sencilla (al menos en la versión gratuita). Esto se logra simplemente programando una ventana emergente al utilizar la aplicación que habilite al usuario a comentar o evaluar el producto.
En el caso de sitios web pero sobre todo de blogs es muy común ver sistemas de comentarios al pie de cada artículo o página como sistema de prueba social digital.
Para quien utiliza WordPress:
(Imagen 1) – Los comentarios de la primera imagen son nativos de WordPress, si quieres mejorarlos con otra herramientas de los mismo creadores, puedes instalar el Plugin gratuito Jetpack y activar en los Comentarios "extendidos" para WordPress en la sección de configuración.
(Imagen 2) – Disqus: otro plugin gratuito para WordPress que puedes descargar aquí.
(Imagen 3) – Comentarios de Facebook: puedes agregarlos a tu sitio o blog hecho en WordPress con este plugin gratuito también: Facebook Plugin.
#5 Fotos o vídeos hablando en público
Es una de las formas clásicas pero más olvidadas para conseguir aumentar la prueba social.
Incluir en tu plataforma digital, fotografías o videos de ti hablando en público, cumple con el principio de prueba social: -Si muchos han asistido anteriormente a una charla o seminario de esta persona es porque es un buen profesional; entonces la próxima vez, yo haré lo mismo.-
Es interesante pensar que nuestro cerebro quiere dos o tres cosas; pero veamos dos ahora:
Nuestro cerebro quiere gastar poca energía: si le demostramos al cerebro a través de la prueba social que un servicio/producto es bueno, él se estará ahorrando todo el trabajo de tener que hacer esa investigación previa a la compra.
Nuestro cerebro quiere que sobrevivamos: es lo que más le importa en realidad. Él "piensa" que si invertimos bien nuestro dinero estaremos recibiendo algún retorno económico en el futuro, lo que implica poder acceder a alimentación, vivienda, salud y otras necesidades básicas en el futuro.
En los videos, es recomendable que se trate de charlas o conferencias que hayas dado sobre tu temática principal de trabajo. De poco sirve que estés dando una charla sobre hípica si tu principal eje de trabajo es, por ejemplo: coaching motivacional, desarrollo personal, talleres sobre ventas, conferencias para emprendedores digitales, etc.
Si todavía no tienes ningún video o fotos que demuestren un alto grado de prueba social, un buen consejo, es dar algunas charlas gratuitas en tu ciudad organizándote para que alguien te filme o te tome fotos para luego publicarlas.
#6 Premios ganados o reconocimientos

Los premios que tu marca o marca personal haya ganado, deben ser exhibidos a lo largo de toda la web y más aún en cualquier página que lleve a la conclusión del proceso de compra.
Según el principio de prueba social nuestro cerebro piensa lo siguiente: -si un grupo de expertos jurados ha elegido a esta marca (tú, tu empresa) como ganadora de un premio, yo que tengo menos información que ellos para decidir; confiaré en la marca y compraré el servicio producto/ofrecido-.
Con el razonamiento anterior, el impulso de compra que se puede haber generado luego de ver tu oferta, no sufre ningún tipo de "roce" que lo frene.
El porcentaje de usuarios que llegan al final del proceso de compra es mayor de esta forma.
Coloca el logo o insignia que demuestre que has ganado determinado premio. Inclusive si no has quedado primero vale la pena tener el logo como finalista. Si has quedado 2do o 3ro no está nada mal hacerlo visible en tu plataforma digital.

#7 Logotipos de organizaciones que te respaldan
Similar al punto anterior. Si existen organizaciones o asociaciones que respaldan tu marca o trabajo profesional, el proceso de compra sufre menos "roces", facilitando que el usuario llegue fácilmente a finalizar la acción y adquiera tu producto/servicio.
Me refiero a imágenes, como por ejemplo, un logotipo de una asociación u organización relacionada con tu ámbito que se coloca por lo general en el pie de página de un sitio web.
De esta forma el usuario siente que tu marca está respaldada por una asociación o referente y por lo tanto es una marca en la que confiará.
Principio de prueba social: el razonamiento que hace nuestro cerebro es el mismo que en el punto anterior.
Coloca la leyenda "Nos respaldan…" o mejor, "Confían en nosotros…" y debajo los logotipos de las organizaciones en cuestión.
#8 Apariciones en prensa o en medios

Es un elemento de prueba social altamente efectivo.
Si has conseguido aparecer en:
medios de prensa (diarios, revistas, publicaciones),
programas de televisión,
programas de radios,
webs de alguna empresa de tu sector,
otros;
…debes hacerlo visible en tu plataforma digital (web/blog/tienda online, etc.)
Al analizarlo con el principio de la prueba social, nuestro cerebro pensará lo siguiente: -si este medio ha publicado algo sobre esta marca; y el medio posee más información que yo para decidir y aparte, muchas personas siguen al medio; entonces, yo debería estar siguiendo a dicha marca.-
Para que quede más claro, un ejemplo sobre mí:

Colocaría en mi blog una entrevista que me haga un programa de televisión reconocido sobre mi trabajo con emprendedores digitales, porque cualquier usuario que llegue a mi blog y viera la entrevista pensaría: -si un canal de televisión prestigiado, seguido por varios miles de televidentes, se interesa en esta persona; entonces, yo debería estar siguiendo a Sebastián también.
Por ahora ninguna entrevista, pero pronto llegarán ;-)
Pero hablando en serio; esto es mucho más efectivo que cualquier publicidad de pago. El consumidor hoy en día desconfía de la publicidad clásica.
Ejemplo de la web LauraRibas.com:

Simplemente coloca en algún lugar visible de tu web el logo del medio en el cual has aparecido o mejor aún, redirige a una página con todas tus apariciones en medios de cualquier tipo. ¡Cuantos más logos o apariciones, mejor!
#9 Logotipos de tus mejores clientes
Colocar los logotipos de tus clientes (actuales o anteriores) en tu página de inicio es una buena estrategia de marketing digital basada en el principio de prueba social.
A priori, puedes pensarlo como: mostrar abiertamente quiénes son tus clientes para que cualquiera pueda pedir referencias de tu trabajo/producto/servicio.
Visto desde la perspectiva del principio de la prueba social esto es diferente; pero igualmente útil. Nuestro cerebro inconscientemente pensará: -si una gran empresa o un profesional de renombre ha comprado un producto o contratado un servicio; entonces, yo que poseo menos información que aquellos, puedo confiar y hacer lo mismo.-
Por lo general es recomendable colocar los logotipos en la página principal de tu sitio pero nada quita que puedas hacerlo en otras páginas secundarias.
Desventajas: le estarás dando a la competencia un listado de potenciales clientes que demandan o demandaron tu producto/servicio. Si tu oferta es fácilmente replicable o poco diferenciada, cualquier competidor podría entrar en contacto con tus clientes y realizarles una mejor oferta económica por el mismo producto/servicio.
#10 Reconocimiento por parte de un "influencer"

A pesar que esté relacionado con los puntos anteriores, he decido separarlo en la lista de elementos de prueba social, ya que el reconocimiento por parte de un "influencer" de tu mismo nicho es la herramienta de prueba social digital más potente que existe.
Colocar en tu plataforma digital un testimonial, referencia de un «influencer» o aparecer en su blog, redes sociales, programa de radio/tv, show, etc.; multiplica el impacto varias veces de ese mismo elemento de prueba social aportado por un desconocido.
Aparte de beneficiarte del «halo mágico» del influencer, también verás como su enorme red de contactos, tradicionales y 2.0, comienza a tenerte en cuenta y a contactarte.
ELEMENTOS EXTRAS (NO PRUEBA SOCIAL)
A mi criterio no responden al principio de prueba social digital así que los he dejado aparte. Esto no quita que utilizarlos ayude a que tus usuarios confíen más en tu marca, concluyan el proceso de compras sin "roces" y vendas más por internet.
#Extra I – Badges o certificaciones
Los badges o insignias son reconocimientos por alguna habilidad o logro alcanzado luego de un curso o capacitación virtual. Lo mismo ocurre con los certificados, sólo que estos suelen ser aún presenciales.
De todas formas badges y certificados deben ser exhibidos como forma de reconocimiento social ya que aumentan la confianza del usuario en una marca.
El pie de página de una web puede ser el mejor lugar.
Por ejemplo, muchas agencias digitales que realizan publicidad de pago (PPC) mediante Google AdWords, suelen colocar alguna de estas certificaciones: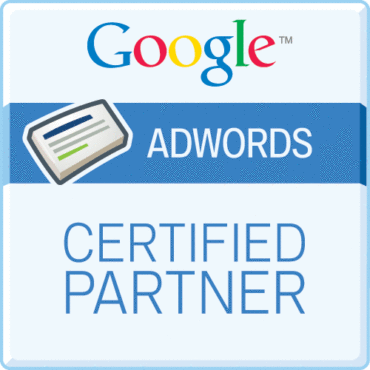 #Extra II – Elementos de seguridad en tu web
No se trata exactamente de un elemento de prueba social digital, porque no demuestra la confianza que otros te hayan dado, sino que demuestra que tu sitio web es seguro.
La seguridad en una página web ayuda a vender por internet. Los usuarios sienten más confianza y completan el proceso de compras más fácilmente.
Ejemplo 1

: Candado y Protocolo de seguridad HTTPS.

Ejemplo 2

: Logotipos que demuestran que tu sitio posee certificados de seguridad: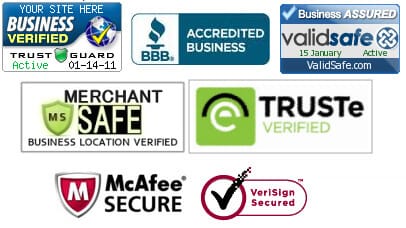 Es conveniente hacer visibles los elementos de seguridad para aumentar la confianza de un prospecto con intención de compra.
Por lo general, casi todo proceso de compra online termina con un pago a través de internet.
Cuantos más certificados o insignias, demostrando que la compra a través de tu web es segura, existen más posibilidades de cerrar la venta.
#Extra III – Garantía de devolución
Nuevamente, no se trata de un elemento de prueba social pero garantiza que el cliente continuará a lo largo del proceso de compras sin trabas.
Me refiero a cuando en una página de aterrizaje (landing page) o al momento de solicitar el pago a través de una página web, vemos estas insignias que aseguran la devolución del pago en caso de no quedar satisfecho con el producto/servicio.
No es ningún secreto en ventas por internet pero aún hay muchas personas o diseñadores web que no lo utilizan. Es una técnica de «Social Proof Marketing« muy difundida y que da muy buenos resultados.
3 Ejemplos para Infoproductos: Garantía de devolución 30 días.

Sea lo que fuera que vendes por internet es aconsejable que des una buena garantía. Si tu producto o servicio es bueno esto no va a generarte ningún inconveniente, al contrario, sólo puede aumentar el número de ventas.
***
Bien, hemos llegado al final de este artículo donde te cuento cómo los elementos de prueba social te pueden ayudar a vender por internet. Esto es lo que llamamos al principio: Social Proof Marketing, una de las técnicas que no todos están aplicando todavía para mejorar el proceso de compras y aumentar las ventas a través de tu sitio web.