El concepto de mastermind es relativamente nuevo en el mundo de habla hispana aunque este término fue acuñado hace 80 años por Napoleon Hill en su libro "Think and grow rich" (1937) originalmente con el nombre de "master mind alliances".
Para empezar, digamos que una mastermind es un grupo de personas que se reúnen física o virtualmente para alcanzar un objetivo.
Veamos un poco más en detalle de qué se trata y cómo crear un mastermind group
¿Qué es un Grupo de Mastermind?
¿Qué es una mastermind?
Mastermind o "mastermind group" es una reunión (física o virtual) con el objetivo que cada uno de los participantes alcancen sus metas laborales o personales aportando su experiencia mutuamente al grupo.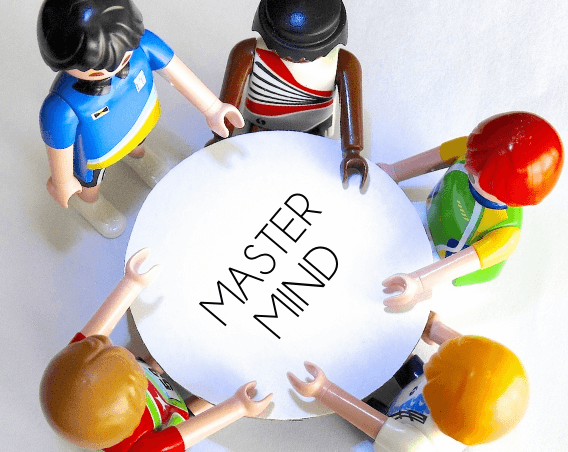 El grupo de mastermind se constituye con una clara regla en mente: que todos sus miembros salgan beneficiados y logren crecer en su trabajo o vida.
¿Qué no es un mastermind group?
No es una sesión de coaching.

No es una sesión de consultoría o asesoramiento.

No es una clase o curso ni una mentoría.

No es una reunión de networking para captar clientes.

No es un brainstorming.
Una mastermind no es nada de esto pero sí que tiene una pizca de cada cosa.
¿Qué tipos de mastermind existen?
En su publicación "How to create your ultimate mastermind", Liz Seda & Scott Dinsmore definen 4 tipos de mastermind groups:
Masterminds basadas en un tema.

Estos grupos están basados en temáticas específicas, por ejemplo: bienestar y salud, alimentación saludable, veganismos y vegetarianismo, padres y madres de familia, aprendiendo idioma inglés, etc.

Masterminds basadas en una misión u objetivo (GRUPAL). Estos grupos están 100% enfocados en que el grupo alcance una meta predeterminada. Se trata de miembros de alguna comunidad/grupo organizando un evento en común, Por ejemplo: grupo de 4 o 5 directores de un colegio coordinando y evaluando mes a mes las actividades realizadas y a realizar. En ámbitos privados podría ser el grupo chico de gerentes de una empresa o agencia que se reúnen semanalmente para debatir el rumbo del negocio.
Masterminds de negocios (INDIVIDUAL).

El objetivo es que cada participante logre hacer crecer su negocio independientemente del nicho o mercado al que éste pertenezca.

Masterminds de metas y seguimiento (INDIVIDUAL).

Un

accountability partner

es aquel miembro del mastermind que sigue y "exige" el cumplimiento de los objetivos de otro miembro del grupo. Ejemplo de esto son aquellas mastermind donde sus participantes tienen el objetivo de cambiar de trabajo, aumentar ventas en x% o pasar un examen para la universidad.
Beneficios. ¿Para qué sirve una mastermind?
El beneficio más evidente de crear y participar en una mastermind es: para lograr alcanzar los objetivos y las metas que nos proponemos.
Otro beneficio se trata de aprender de los demás participantes del grupo de mastermind. También deberemos compartir nuestra experiencia y no sólo limitarnos a tomar el conocimiento de los demás.
Finalmente el motivo más importante: rodearnos de personas que "piensan a lo grande" para que empecemos a pensar de la misma forma.
Duración ¿Cuánto debe durar una mastermind?
Duración de una sesión.

No hay reglas para el tiempo de duración de una sesión de mastermind. Por lo general se habla de

1 sesión de 1 hora siendo 4 personas

que participan de la mastermind. En el caso de contar con más participantes es lógico que la mastermind dure más tiempo.

Duración de la mastermind en sí.

El grupo de mastermind no es eterno. En muchas ocasiones estos grupos se acaban porque el

objetivo ha sido alcanzado.

En otras ocasiones el mastermind group debe disolverse de buena manera porque

ya los miembros no pueden aportar o beneficiarse

mutuamente.
Planificar una mastermind en 5 pasos
Esta es la parte más sencilla antes de empezar una mastermind:
Elegir un tema.

Depende de nuestros objetivos e intereses en un determinado momento de la vida. Negocios, desarrollo personal, consecución de objetivos y otros.

Elegir miembros.

Una mastermind consta de al menos 2 personas (ideal 4) que deben ser elegidos cuidadosamente para que "cuajen" en el grupo.

Elegir la duración:

por lo general una mastermind de 4 personas debería durar 1 hora.

Fijar algunas reglas:

establecer qué estilo tomará la mastermind. Las hay desde muy estructuradas hasta totalmente descontracturadas. Es importante no hacerle perder el tiempo a nadie y por eso debemos fijar qué tipo de mastermind vamos a organizar.

Marcar una fecha y hora:

como cualquier reunión debemos definir día y hora y respetarlos.
Consejos para una mastermind efectiva
Veamos algunos consejos basados en la publicación de Sid Savara en Lifekack.
Días y horarios precisos:

fijar un día y hora con nuestros compañeros de mastermind nos asegura que todos puedan participar. Lo mismo ocurre con la duración de la mastermind, la cual debemos respetar para no retrasar en sus tareas al resto de los miembros del grupo.

Misma cantidad de tiempo para hablar.

Cada participante del grupo mastermind recibirá la misma cantidad de tiempo para hablar (y ser escuchado) que el resto de los integrantes.

Evitar interrumpir.

Como en la vida, es importante dejar hablar a los participantes de la mastermind y escuchar sin interrumpir. Guardar el comentario o pregunta hasta que quien habla haya terminado.

Establecer un tema de conversación.

Al igual que en las reuniones de negocios, en un mastermind group es importante definir un tópico sobre el que se va a hablar. Empezar una reunión sin tema de conversación puede llevarnos a perder una hora de tiempo o varios minutos al menos.

Establecer un moderador.

Nos referimos a alguien que organice el desarrollo de la mastermind. Por ejemplo, si uno de los participantes interrumpe demasiado, el moderador será el encargado de hacérselo notar de buena manera y volver a encaminar el discurso.

Registrar la mastermind.

En algunos casos es interesante llevar un registro de la mastermind. Algunos ex

pertos sugieren grabar en

MP3

la reunión, tomar apuntes con

Google Docs

(hojas de trabajo para compartir online) o crear

mapas mentales

también con herramientas online.
¿Cantidad de participantes en una mastermind?
No hay regla fija para la cantidad de miembros en un grupo mastermind, de 3 a 5 participantes es el número que muchas personas sugieren como el mejor. Otros opinan que el número mágico es el 4.
Al final, todo depende del tema a tratar y del grado de organización que tenga el grupo. Lo cierto es que cuanto menor sea el grupo mucho más fácil será coordinarlo (días y horarios), evitar interrupciones y se conseguirán sesiones más cortas y productivas.
Finalmente debemos saber que una mastermind requiere cierto grado de confianza con el resto de los participantes. En un grupo mastermind cuanto más sinceros seamos, cuantos más detalles demos, más beneficiados nos veremos.
Poder contar cuestiones personales en un grupo orientado a objetivos personales es muy importante. De la misma manera, poder contar montos de facturación mensual y cómo hemos crecido es fundamental en un grupo mastermind enfocado en negocios.
¿Cómo puedo unirme a un grupo de Mastermind?
Siguiendo con la guía de Liz Seda & Scott Dinsmore, los miembros de un mastermind group deberían cumplir algunas características: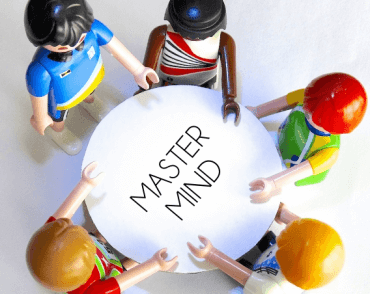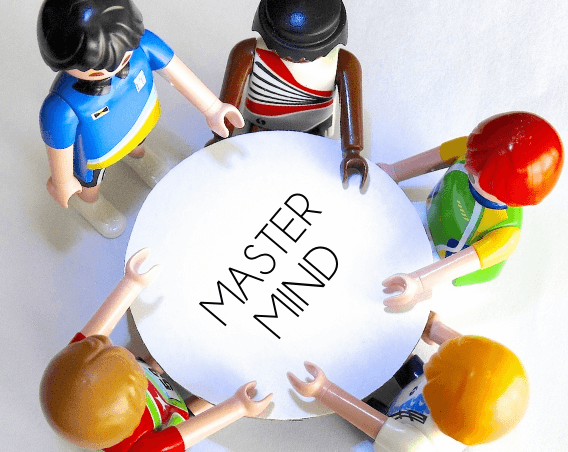 Tener un nivel similar de experiencia.

Ambiciones similares.

Afinidad, llevarse mínimamente bien con el resto del grupo.
Evitar el encapsulamiento. Por el lado contrario debemos tratar que los participantes no tengan el mismo perfil profesional/técnico para que puedan complementarse.
Los mastermind groups son una experiencia enriquecedora. Nos ofrecen la posibilidad de crecer junto con el resto del grupo de manera amena pero con un objetivo a cumplir.
No dudes en aplicarlo a tu estrategia de crecimiento personal o de negocios.