Hoy te presento un completo artículo sobre 13 herramientas de Google que todos los emprendedores deberíamos conocer para hacer crecer nuestro negocio online u offline.
Herramientas de Tendencias y Comportamiento
#1 Google Trends
Esta herramienta analiza y muestra gráficos de las tendencias en cada país del mundo sobre las búsquedas realizadas por los usuarios desde 2004 hasta la fecha.
Una vez entrado a Google Trends te recomiendo que selecciones el país y/o la categoría que quieres analizar o que directamente escribas el tema que te interesa en la barra de búsquedas.
Los resultados que obtendrás serán sorprendentes. Podrás utilizarlos para ver la tendencia de ciertas palabras claves para tu estrategia de SEO, y hasta para realizar un pequeño estudio de mercado para tu emprendimiento.
EJEMPLO: en 2013 estuve viviendo en Perú y los habitantes contaban como estaba subiendo el precio de la quínoa debido al aumento de la demanda internacional de este producto.
Dicho y hecho. Google Trends nos muestra el aumento en las búsquedas de la palabra clave "Quínoa" desde 2004 en todo el mundo. Además exhibe un gráfico con Canadá y Australia a la cabeza de las búsquedas de este producto.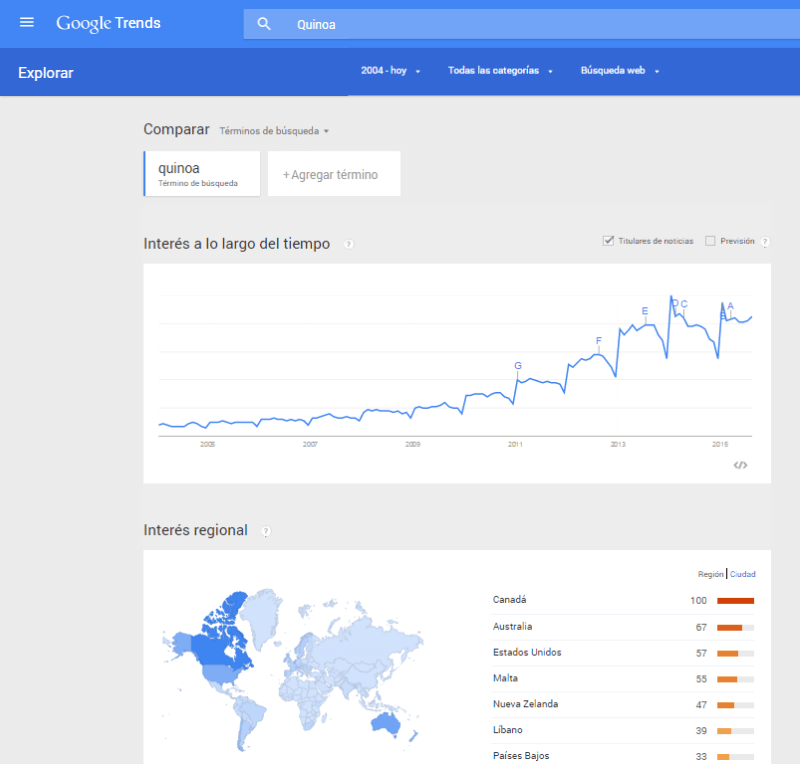 ¿Te interesa saber lo que se viene, dónde invertir o cómo posicionar mejor? ¿Por qué no estás usando Google Trends entonces?
#2 Trends YouTube Dashboard
https://www.youtube.com/trendsdashboard
A ver… ¿Cuál es el segundo mayor buscador del mundo después de Google?
La respuesta es YouTube. Seguro lo sabías. Entonces, ¿cómo no vamos a querer conocer las tendencias y el comportamiento de los internautas de YouTube entre los cuales se encuentran nuestros potenciales clientes?
La herramienta Trends YouTube Dashboard nos puede servir para:
Saber si invertir o no en publicidad de YouTube de acuerdo a nuestro nicho.
Saber si tu empresa debería generar contenido en forma de vídeo para tus clientes o para captar nuevos.
Conocer y anticiparnos a las tendencias.
Descubrir e invertir en nuevos mercados en crecimiento.
Volvernos o no YouTubers ;-)
Aparte de darnos un idea general, podremos filtrar la información obtenida según:
Sexo
País
Edad
Lo más visto
Lo más compartido
Finalmente, Trends YouTube Dashboard, nos ofrece una rápida forma de comparar hasta tres tipos diferente de criterios o métricas.
En este caso comparé lo que más estaban viendo en Colombia tres franjas etarias diferentes (13-17 / 35-44 / 55-64) aunque podría haber comparado entre países, hombres y mujeres, más visto o más compartido.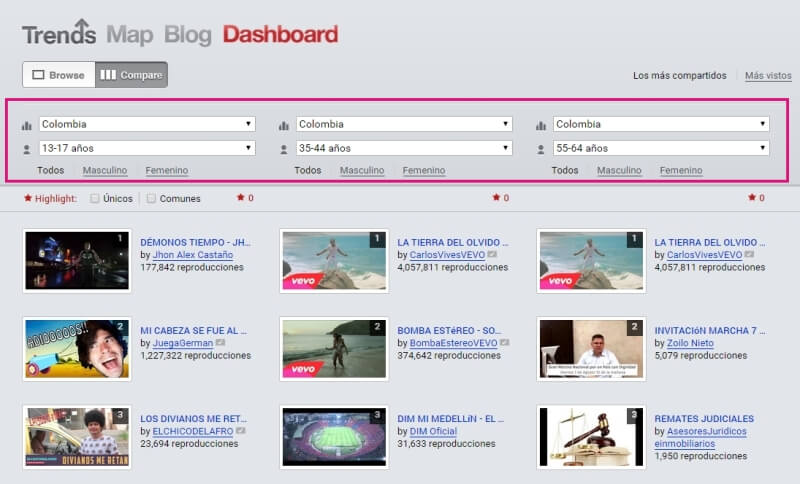 #3 Think Insights
Insights en castellano podríamos traducirlo como inspiración. Al fin y al cabo se trata de ideas y artículos sobre el mercado digital traídos por la misma Google aportando información muy relevante y de calidad.
La idea es, aparte de mantenernos actualizados y recibir "inspiración", acercarnos información precisa, efectiva y sobre todo, nuevas ideas.
Google Think Insights posee algunos recursos que no quiero dejar de mencionar:
Estadísticas
Biblioteca de recursos
Casos de estudio
Vídeos e Infográficos
Herramientas para planificar una campaña de marketing
Te vas a pasar algunas horas en Google Insights pero a cada minuto aprenderás algo nuevo que seguramente aplicarás a tu emprendimiento.
Personalmente sigo los artículos en su Twitter. También podrías hacerlo en Google+.
¿Qué estás esperando para recibir inspiración, nuevas ideas y sin tener que pagar nada a cambio?
Este es el enlace para visitar Google Insights en español.
#4 Consumer Barometer
Como la misma Google lo define, el Cosumeter Barometer, es una herramienta que nos ayuda a entender cómo las personas usan internet alrededor del mundo.
Para ser más claro, se trata de una serie de encuestas y sus estadísticas por sectores y en varios países del mundo.
Esta herramienta es fundamental para evitar errores de lanzamiento y disminuir sus costos.
¿Qué uso puedo darle a Consumer Barometer de Google?
Para lanzar un nuevo producto o servicio al mercado.
Para modificar un producto o servicio existente.
Para crear un nuevo negocio.
Para incorporar un nuevo nicho de mercado.
Esta herramienta se encuentra en inglés e incluye datos de un año anterior al actual.
Usar Google Barometer no significa dejar de hacer una investigación de mercado tradicional. Su ventaja radica en que nos da una muy buena idea de hacia dónde nos encaminamos antes de invertir tiempo y dinero en un nuevo proyecto.
Esta herramienta gratuita de Google es realmente completa y a veces me abruma de tanta información. Por lo general puedo decir que se divide en dos partes: las estadísticas y las gráficas.
EJEMPLO: mira que fácil podemos repensar abrir la venta online de nuestros productos físicos exportando a Argentina. Es decir, ¿Cuántas compras online hacen los argentinos por año?
¿Será un mercado en crecimiento o estarán sus importaciones bloqueadas? Claro que Consumer Barometer no nos dice que es debido a trabas burocráticas del gobierno y su aduana pero ya nos da una fuerte pauta para saber a qué nos arriesgamos al entrar en ese mercado.
Herramientas de marketing y publicidad
#5 Google AdWords
Quienes se hayan iniciado recientemente en el mundo del marketing digital, probablemente aún no hayan utilizado esta herramienta de Google.
AdWords es la plataforma de Google para poder anunciar en todos los sitios propiedad de esta empresa pagando a cambio de ello.
Nota: Google AdWords a pesar de ser considerada la mayor plataforma de publicidad online del mundo tal vez sea más indicada para una agencia Google Ads. Para un profesional de marketing que recién empieza o para un anunciante común, esta plataforma no es intuitiva si la comparamos con Facebook Ads o con la publicidad en Twitter y LinkedIn.
Tampoco es la plataforma más económica pero Google AdWords se diferencia en un aspecto que la vuelve superior a todas las otras:
-Google exhibe los anuncios publicitarios en el exacto momento en que una persona está buscando un producto/servicios relacionado con el anuncio-
La diferencia con las otras plataformas de publicidad pago es que éstas ponen delante de tus ojos la publicidad (por ejemplo en el Timeline o Feed de noticias) en base a tus gustos, preferencias, comportamiento, likes y hasta según tus amigos/followers, etc; mientras que AdWords lo hace según lo que acabas de escribir en la barra de búsqueda.
En este artículo no pretendo profundizar mucho en el funcionamiento de AdWords. Sólo veremos algunas características:
Pay-per-Click: Por cada clic que recibe tu anuncio, AdWords te cobra un importe de tu presupuesto diario.
Palabras clave: el factor principal para que un anuncio aparezca en la publicidad de Google, no son los intereses de los usuarios, comportamiento, país, idioma; estos son sólo filtros. AdWords le da importancia realmente a las palabras clave que seleccionas y a cuánto pagas por ellas. (ver punto siguiente)
Sistema de puja: AdWords posee un interesante (¿o complicado?) sistema de subasta que posiciona más arriba a aquellos anuncios que hayan pagado más por palabra clave. Entre todos los anunciantes que compiten por aparecer ante una determinada búsqueda, AdWords destaca más a aquellos que pagaron más.
Entonces, si vas en serio con tu negocio y tienes un producto/servicio con una alta tasa de retorno, por qué no probar la publicidad con Google AdWords.
#6 Remarketing
Es un tipo de campaña dentro de AdWords pero vale la pena tratarla como una herramienta separada por su uso y utilidad.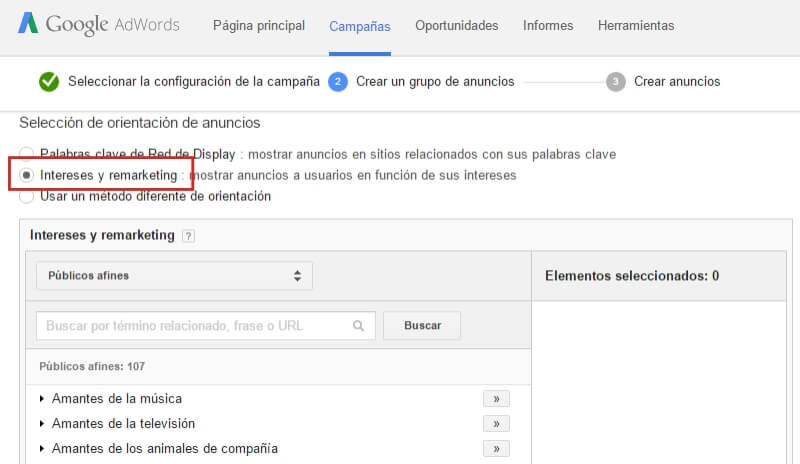 Se trata de campañas que apuntan a impactar a un cliente potencial por la segunda vez.
Por medio de etiquetas (tags) generadas por Google e insertadas en un sitio web, se consigue rastrear a los clientes potenciales y crear listas personalizadas. De esta manera es posible impactar a cada usuario que desistió de una compra.
El objetivo de las campañas de remarketing es que el usuario termine de ejecutar la acción abandonada. (Ejemplos: compras, reservas, descarga de apps, suscripciones, etc.).
En este enlace encontrarás los pasos para lanzar tu primera campaña de remarketing con Google AdWords
#7 Google AdSense
Es la contracara de AdWords.
Si con Google AdWords una persona crea y publica anuncios, con Google AdSense podrás colocar esos anuncios de terceros en tu blog o sitio web.
Es una herramienta realmente sencilla de usar. Un rápido video para terminar de entender la idea:
Debes registrarte completando los datos y aguardar unos días hasta que el equipo de Google analice y autorice tu sitio.
Una vez aprobado, ya podrás crear el código de AdSense para cada bloque de anuncios que aparecerá en tu web. Deberás copiarlo y pegarlo en tu sitio web para que Google comience a vehiculizar la publicidad de quien creó un anuncio previamente con AdWords.
Por cada clic que recibe alguno de los anuncios en tu web, AdSense te pagará un valor (centavos de dólar) que podrás cobrar mediante cheque o transferencia bancaria (según tu país) una vez que alcances como mínimo los USD 100 dólares. Ver más información sobre pagos por país de Google AdSense.
Resumiendo, Google AdSense es una forma de monetización web que personalmente no recomiendo de forma exclusiva. El tráfico web necesario para obtener volúmenes significativos de dinero es muy alto.
Sí la recomiendo junto con otras formas de monetización web. (Ver guía completa).
¿Cuánto dinero piensas ganar con Google AdSense el mes que viene?
Herramientas para marketing en Dispositivos móviles
#8 Our Mobile Planet Tool
Se trata de una herramienta simple que te permitirá crear todo tipo gráficos sobre el uso de teléfonos móviles en todo el mundo.
Esta herramienta de Google no dispone de tanta información actualizada como las otras que estuvimos analizando hasta ahora, ni de una versión en español. Por las pruebas que pude hacer sólo incluye información hasta 2013 pero se espera que actualicen por lo menos hasta 2014.
Podrás crear gráficos sobre el comportamiento del consumidor con un teléfono móvil utilizando estos filtros:
País
Comportamiento móvil
Fecha (Año)
Edad del usuario
Sexo
EJEMPLO: En mi caso creé un gráfico que mide las barreras para realizar compras con un teléfono móvil. He incluido estos filtros: País (Argentina, México y España) ya que son los únicos tres de habla hispana que disponen de información. Todas las edades, sexos y año 2013.
De las barreras de compras con teléfono móvil he elegido:
El usuario no confía de la seguridad de usar la tarjeta de crédito en dispositivos móviles.
El usuario considera que la información es escasa (supongo que en el sitio web que vende).
El usuario no compra porque la conexión con el dispositivo tiende a interrumpirse.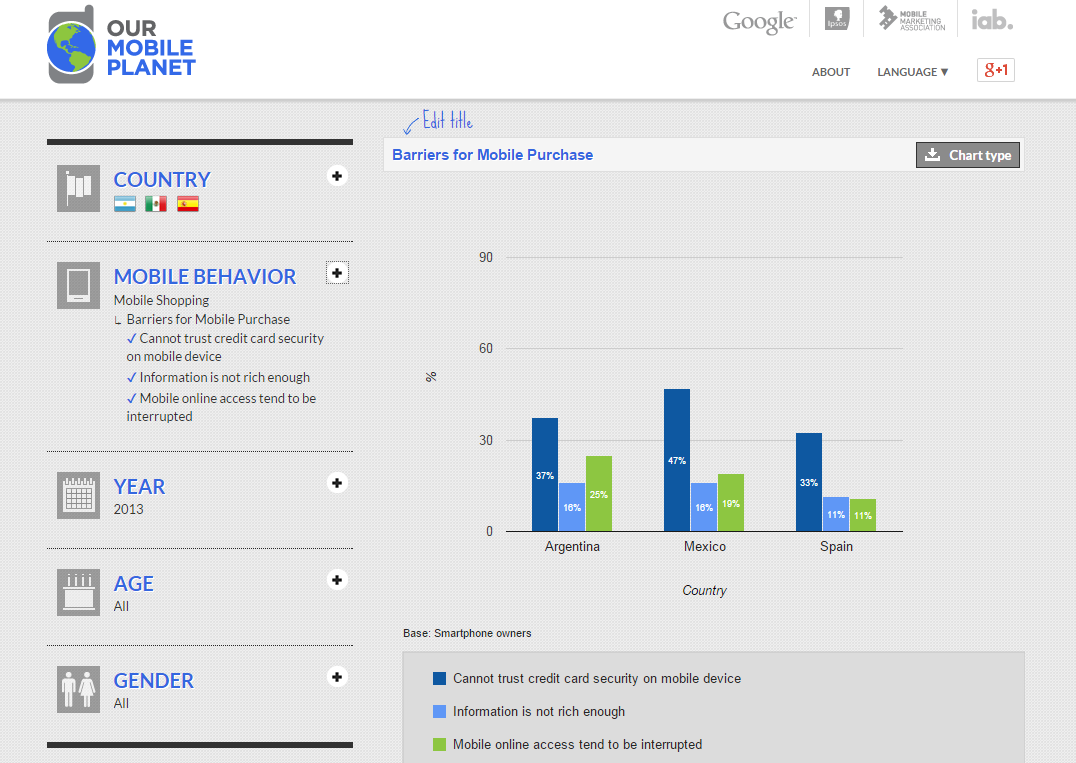 ¡Nada mal para quien está pensando en lanzarse al mercado digital sobre plataforma mobile! (Apenas actualicen la información, claro.)
#9 Mobile in the Purchase Journey
[Nota: Herramienta Discontinuada por Google]
Creo que esta herramienta gratuita de Google es mi preferida. El nombre significa algo así como el uso de (un dispositivo) móvil en el recorrido de compra.
Esta herramienta, según anuncia Google, te permitirá conocer cómo los consumidores encuentran y compran productos y servicios según el dispositivo que usan ¡y en cada etapa!
Está orientado a obtener esa información del usuario en varios dispositivos multipantalla. Mobile in the Purchase Journey se divide en dos secciones:
#1 Ruta de compra móvil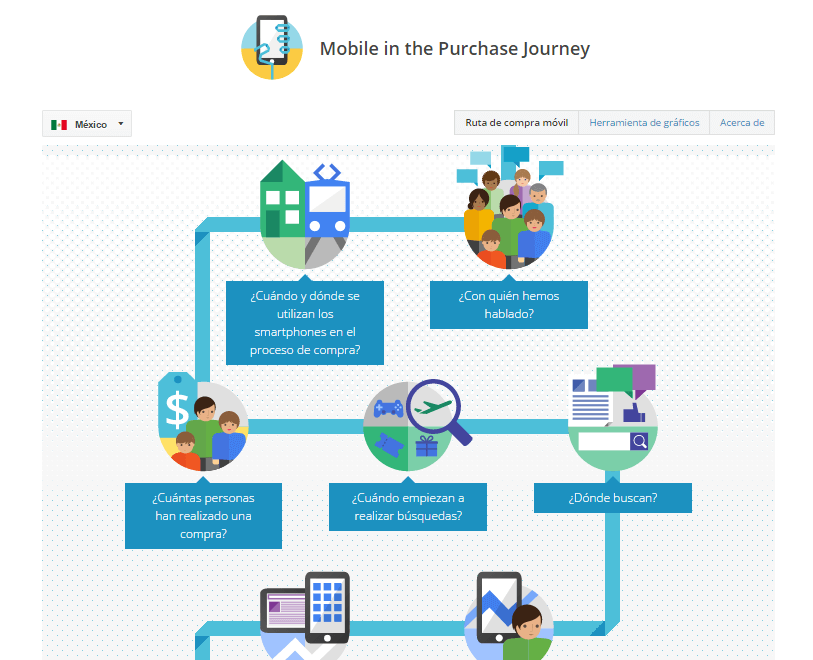 En esta sección podrás ver la ruta de manera gráfica e interactiva. Al hacer clic en la etapa de compra que más te interese accederás a una especie de presentación donde verás un informe sobre el uso de dispositivos móviles durante el proceso de compras.
Esta sección puede ser filtrada por:
Países (Hay unos 35 y sólo 3 hispanohablantes).
Sector de Mercado (Comercio minorista, Ocio y entretenimiento, Tecnología y Viajes).
Los informes disponibles son estos:
¿Con quién hemos hablado? Muestra de usuario entrevistados.
¿Cuándo y dónde se usan los smartphones en el proceso de compra?
¿Cuántas personas han realizado una compra?
¿Cuándo empiezan a realizar una búsqueda?
¿Dónde buscan?
Para buscar ¿utilizan un navegador o una aplicación móvil?
¿En qué momento de la búsqueda utilizan un smartphone?
¿Qué tipo de información buscan?
¿Utilizan varias pantallas en el proceso de búsqueda?
¿Cómo se relaciona el proceso de búsqueda con la compra?
EJEMPLO: Otro nicho con el que trabajo, aparte de los emprendimientos digitales, es el de turismo. Mira cómo esta herramienta de Google me ayuda a ver la manera en que los brasileños realizan sus búsquedas de viajes y luego sus compras. El 37% lo empieza en su móvil. De ese porcentaje, sólo el 12% termina su compra mediante el mismo dispositivo.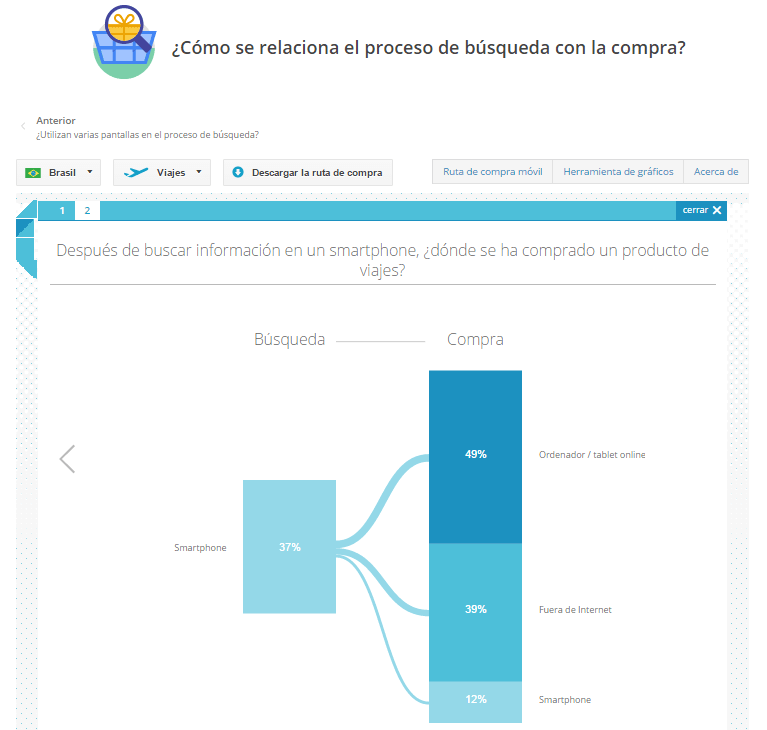 Ya sabemos entonces qué porcentaje de nuestro presupuesto publicitario dedicarle a un dispositivo móvil para dar a conocer una oferta o para re-impactar (remarketing) a un prospecto, luego, en su dispositivo de escritorio.
#2 Herramienta de Gráficos
La segunda sección de Mobile in the Purchase Journey permite generar gráfico combinando diferentes variables para obtener un informe específico.
A través de una serie de filtros, el sistema mostrará los datos que tenga y hasta te permitirá hacer comparaciones entre diferentes criterios o filtros.
Herramientas de medición de Resultados
#10 Google Analytics
Analytics es para mí la herramienta más completa y gratuita para realizar un análisis de marketing de un sitio web.
Ofrece casi toda la información que podemos querer saber de los usuarios que visitan nuestra web.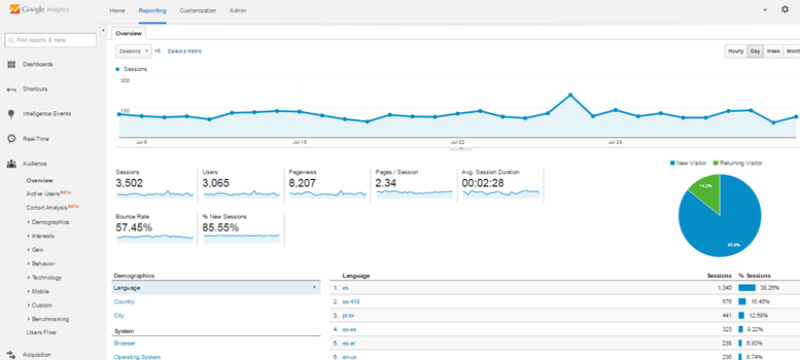 Veamos algunos ejemplos, podremos saber:
Cómo llegó a nuestra web un usuario (desde Google, Redes sociales, Links en otros sitios, Anuncios de publicidad de pago, de enlaces en nuestros Emails).
Cantidad de visitas.
Páginas más visitadas.
Datos demográficos del usuario.
Tiempo de permanencia y tasa de rebote.
Tipo de dispositivo (Escritorio, tablets, móvil).
Cruzar información de diferentes métricas. (Ejemplo: cantidad de visitas x país)
Ver el recorrido que hace un usuario desde que entra hasta que sale de nuestro sitio web.
Ver las páginas de llegada y de abandono.
Estos ejemplos son sólo una pequeña parte de la información que podemos obtener.
La plataforma es sencilla de utilizar aunque al principio uno se puede perder un poco entre tantos datos. Para comenzar a usarla sólo hay que insertar el código de seguimiento en el encabezado de tu sitio web. Por lo general, cualquier plantilla premium, ofrece una manera más simple de insertar el código con sólo entrar a las opciones de configuración de la misma.
La información más completa siempre tiene un día de diferimiento, mientras que existe un módulo que nos brinda información reducida pero en tiempo real.
Supongo que muchos ya deben estar usando Google Analytics. Para aquellos que todavía no lo han implementado, a ponerse al trabajo hoy mismo. Alguien sin experiencia no demorará más de 15 minutos en hacerlo.
¿Te imaginas las ventajas de saber a quién le estás vendiendo? ;-)
Herramientas de Posicionamiento Web (SEO)
#11 Search Console (ex Webmasters Tools)
Sin dudas luego de Analytics, AdWords y AdSense; Search Console es la herramienta de Google más usada por todos nosotros.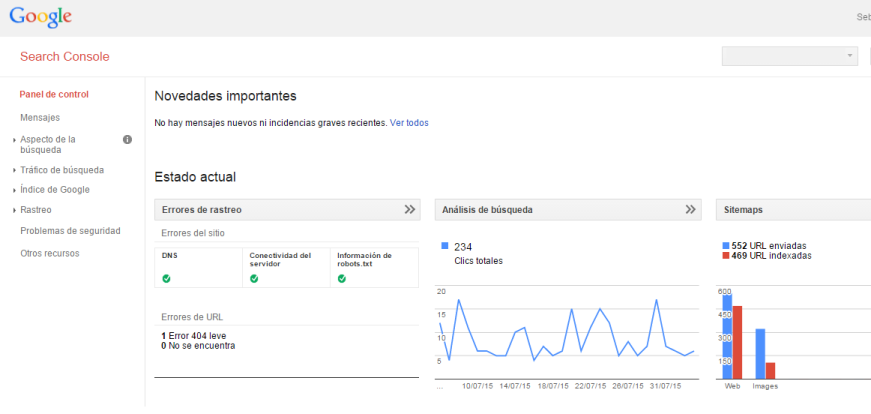 A pesar que posee algunas herramientas de métrica de un sitio web, como el análisis de búsqueda, el resto son herramientas posicionamiento SEO.
Para quien nunca usó Google Webmasters Tools, voy a preparar una guía completa pero por ahora veamos las funciones principales.
Esta herramienta de Google muestra cómo las páginas (URLs) de nuestro sitio web se encuentran indexadas en este motor de búsquedas.
También podremos saber cuáles son los links externos que nos enlazan y de cuáles webs provienen para poder medir nuestra estrategia de backlinks.
Search Console nos permite saber si existen enlaces rotos que perjudiquen el posicionamiento web.
Cuestiones más técnicas como analizar el archivo robots.txt o enviar un nuevo sitemap.xml.
Ver cómo rastrea tus páginas Google y pedir que indexe más rápido determinada página.
Nos permite, también desautorizar enlaces entrantes que no consideramos oportunos o de sitios en que no confiamos.
Resolver problemas de seguridad y de la versión responsiva (móvil) de nuestro sitio web.
Para comenzar a usar Google Searh Console debemos tomarnos unos minutos para crear una cuenta, completar los datos de nuestro dominio web y autorizar la propiedad del dominio (hay por lo menos cuatro forma de hacer esto último).
¡Ya es hora de mejorar tu posicionamiento web para ganar visibilidad en las búsquedas! ¿Qué esperas entonces para implementar el uso de Google Search Console en tu web?
#12 Page Speed Insights
Es una de las herramientas de Google que más uso ya que te permitirá encontrar los factores que hacen que tu sitio web cargue lento.
Hay 3 motivos para querer un sitio rápido:
La velocidad de carga es un factor a tener en cuenta para un buen posicionamiento SEO y aparecer más arriba en los resultados orgánicos de Google.
Un sitio muy lento corre el riesgo de ser reprobado por Google AdSense al momento de viabilizar publicidad de AdWords.
Un sitio rápido ofrece una mejor experiencia de usuario, lo que hace que estos vuelvan a visitarnos o compartan nuestros contenidos.
Su funcionamiento es simple e intuitivo. Consiste en escribir la URL de tu sitio web y clicar en el botón "Analizar".
En pocos segundos Page Speed Insights te dará el estado actual y un listado con sugerencia para mejorar la velocidad de carga de tu sitio tanto en su versión móvil cuanto en la versión de escritorio.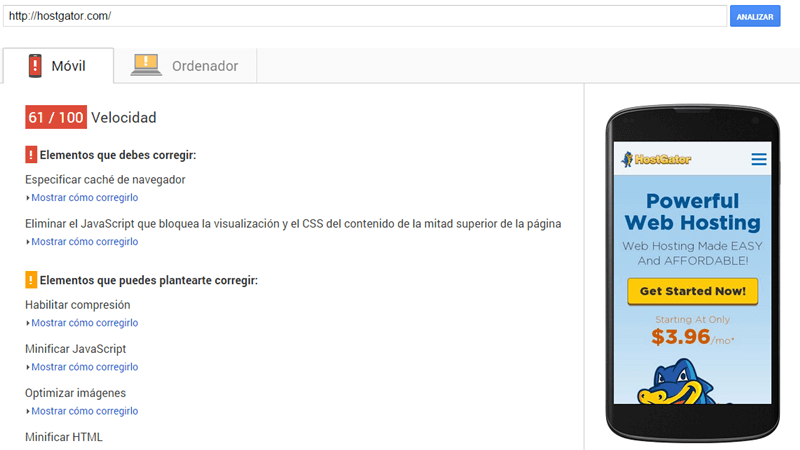 La evaluación varía de 0 a 100. Generalmente una página por encima de 85 puntos indica un buen tiempo de carga.
El diagnóstico indica qué hacer para mejorar la velocidad de carga, mostrando qué deberías cambiar de manera urgente para hacer tu sitio menos lento.
#13 Planificador de palabras clave de Google AdWords
Sí, es parte de Google AdWords en realidad. Al tratarse de una herramienta fundamental a la hora de pensar nuestra estrategia de posicionamiento SEO, he decidido tratarla por separado.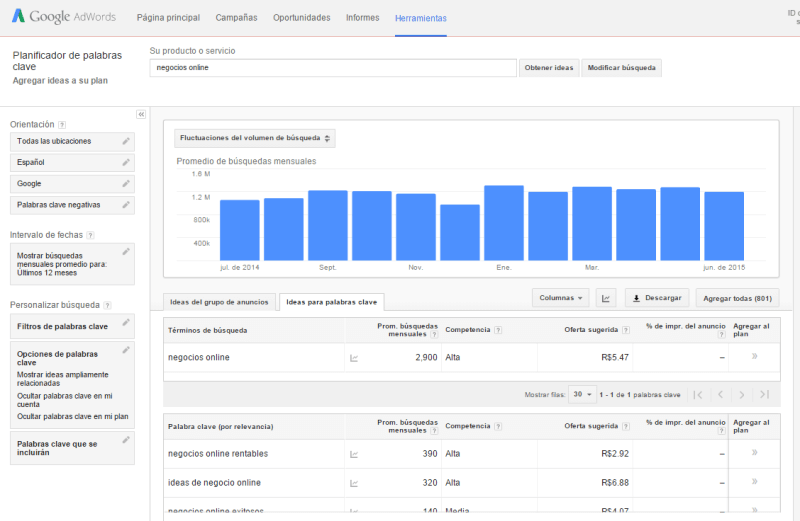 Se encuentra dentro de AdWords porque originalmente esta herramienta gratuita de Google fue pensada para saber el valor de las palabras claves de nuestros anuncios y para darnos más información sobre las búsquedas de los usuarios en Google.
Con el paso del tiempo todos empezamos a usarla para obtener la misma información para mejorar nuestro posicionamiento web SEO y hasta para saber en qué nicho concentrarnos a la hora de monetizar una página web con Google AdSense.
El funcionamiento no es nada complicado. Se trata de introducir en la caja de búsqueda todas aquellas palabras que consideramos hacen parte del "repertorio" de búsqueda de los usuarios de nuestro nicho de mercado.
Luego, aplicaremos algunos filtros del estilo:
Localización
Idioma
Página de destino
Categoría del producto/servicios
Deberás hacer clic en "Obtener ideas" y a continuación verás:
Gráfico con las fluctuaciones de las búsquedas en Google para esa/s palabra/s clave.
Pestaña 1: Ideas del grupo de anuncio. Son varias ideas que te sugiere Google agrupadas por palabras clave secundarias.
Pestaña 2: Ideas para palabras clave. El valor preciso de la cantidad de búsquedas que recibe la/s palabra/s clave que seleccionaste al principio.
Otros datos que te van a interesar conocer son:
Cantidad de búsquedas mensuales
Grado de competencia para una palabra clave
Valor de la oferta (puja) estimada para quedar entre los primeros anunciantes.
Para utilizar el Planificador de Palabras Clave basta acceder con una cuenta de Google a través de AdWords o mediante el siguiente link: https://adwords.google.com/KeywordPlanner
Final de este artículo donde te presento 13 Herramientas de Google para emprendedores.
Otros recursos relacionados: